Setting up a Native creative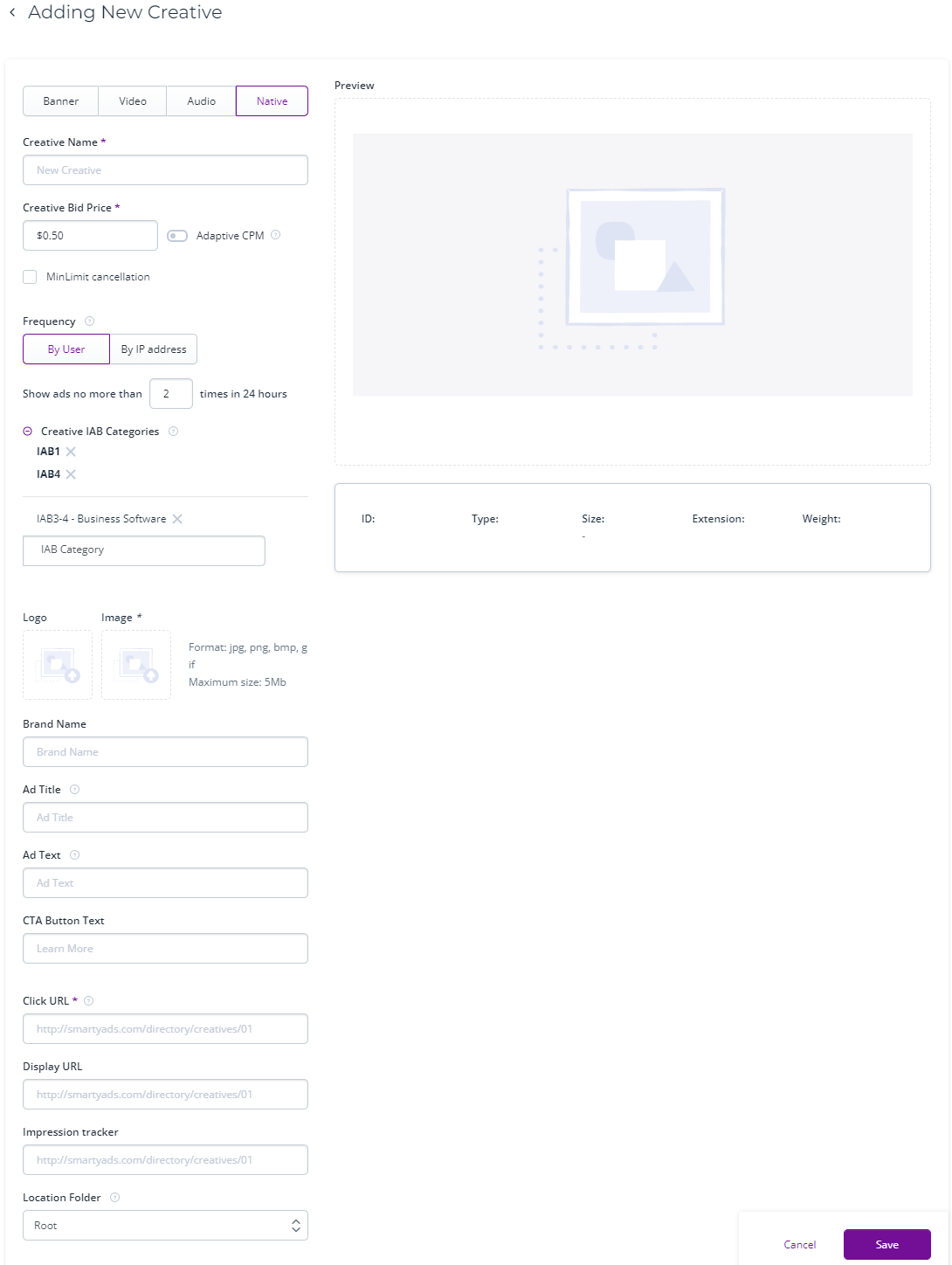 For the Native type of creative, you have to set the following parameters:
Creative Name: Set a unique name for the creative to differentiate it from other creatives. For example, you can name it 'Native 300x250 Product1 2019'.
CPM – the price for a thousand impressions. The minimum CPM is $0.5. Also, you can activate 'Adaptive CPM' which will lower the CPM price when possible in order to save the budget.
Frequency – select the way to define the user uniqueness: by IP or by the user agent. Set how many times per 24 hours the user can see the ad. For example, you may consider that seeing the same ad two or three times per day may be more convincing for the user than just one time, but 4th time may be annoying. If you think so, set the frequency to 2 or 3.
Set at least one IAB category (according to the Interactive Advertising Bureau classification) that characterizes the creative to make the targeting more specific, so that it helps to match your creative with publishers and users who want to see advertising in those categories.
Logo – upload a logo image of the advertised brand or product. Max size is 256*256 pixels. This field is not required.
Image – upload the main image that will attract users. This field is required.
Brand Name – type the advertised brand name. This field is not required.
Ad Title – set the brief text that attracts the user. This field is required.
Ad Text – describe the message of the ad. This field is required.
CTA Button Text – make the text for the button that the user will want to click on. This field is not required.
Click URL – URL to which the user will be redirected after a click on the ad. You can also add a macro to the URL.
Display URL – the URL to be displayed on the ad. It may differ from the Click URL but must match the top-level domain of the Click URL after its cross-domain redirects. For example, click URL may be the exact URL (brand1234.com/brand/product/url), while the Display URL may be a top-level domain (brand1234.com)
Location Folder – here you can set the folder to store the creative in.