Billing
The system provides convenient and simple functionality for maintaining your account balance and transactions.
Use the main menu to get to the Billing section, or click 'Balance' in the dropdown menu available by clicking on your profile link in the upper right corner:

Here you can view your actual balance, set up automated email notifications on reaching the limit of the account balance, make a deposit, and see your transactions and invoices.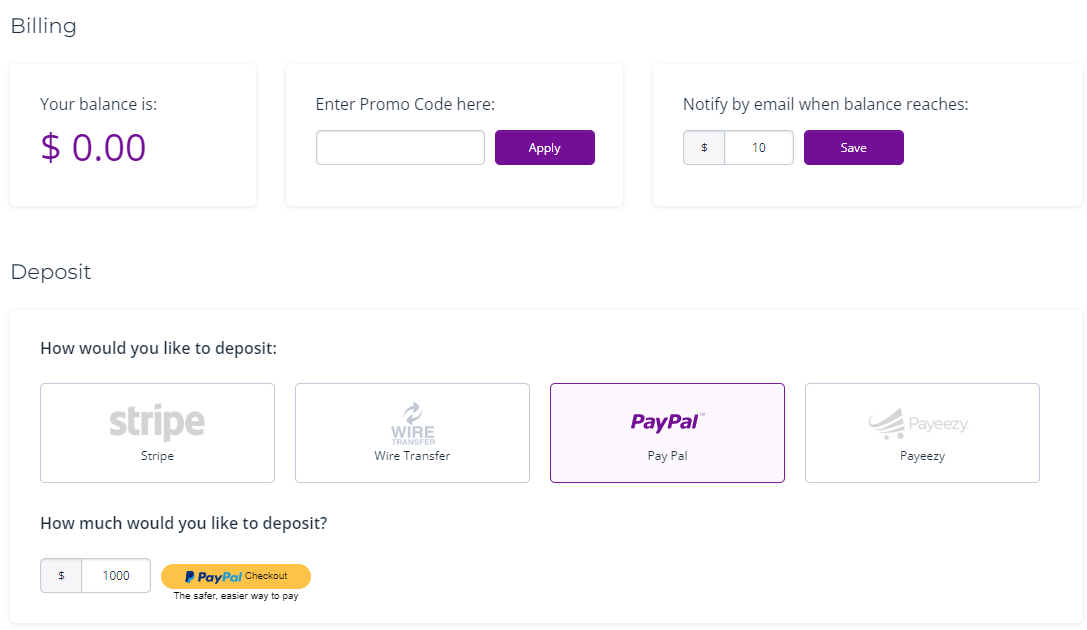 If you have any Promo Code, you can apply it and get a discount.
There is a predefined notification of a low balance that appears if your balance falls below some amount. You can change that limit. To set a new limit, enter the new amount in the field below the 'Get notification email when balance level reaches' text, and click 'Save'. You will see the pop-up that confirms the change in the balance limit.
To make a deposit, select the way you want to do it: via Stripe, Wire Transfer, PayPal, Payeezy.
Note: The minimum of the first payment is $1000. The following payments must be at least $500.

For example, to proceed with Payeezy, set the sum you want to deposit and fill in the fields of the payment form: Name, credit card number, expiry date, CVV-code. Then, click [Deposit].

To make a payment via PayPal, you must have a PayPal account. If you have it, set the sum and click 'PayPal Checkout'.


To make a payment via Wire Transfer, first, contact our financial department via finance@smartyads.com.

Note: the transaction may take some time before the money reaches your account.

Below the Deposit area, you can see the list of your deposits and daily spend transactions.